VIRTUAL PRIVATE SERVERS
VPS hosting that puts the power in your hands.

Dedicated IP

Full Root Access

SSD Disk Drives

500 MB/S Network
VPS HOSTING PLANS
Whether you're building one high performance site or an army of them, our plans flex to your needs.
CPU
MEMORY
SSD
BANDWIDTH
NETWORK
IPv4
Price
1 Core
4 GB
50 GB
2000 GB
500 Mbps
1x IPv4

$9.90/mo

First Mo* -

Save 50%

ORDER
2 Core
8 GB
100 GB
5000 GB
500 Mbps
1x IPv4

$19.90/mo

First Mo* -

Save 50%

ORDER
4 Core
16 GB
200 GB
10000 GB
500 Mbps
1x IPv4

$39.90/mo

First Mo* -

Save 50%

ORDER
8 Core
32 GB
400 GB
15000 GB
500 Mbps
1x IPv4

$79.90/mo

First Mo* -

Save 50%

ORDER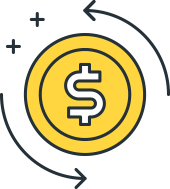 50% Discount for the first month!
You can have all VPS Hosting plans 50% Off in the first month. This discount is applied on every server you buy.
Additional services
If you wish, you can purchase the add-ons listed below at the order stage for your virtual server.
VPS Hosting FAQs
Find answers to frequently asked questions about our VPS Hosting plans
Virtual Private Server hosting, aka VPS hosting, is a website hosting environment that allows for resources such as RAM and CPU to be dedicated to your account. This is achieved by virtualizing a Dedicated server and splitting the resources amongst the users on that server.
Users are guaranteed the resources on their VPS web hosting account. This means that your account will always be allocated the set amount of RAM, CPU and Disk Space you've chosen regardless of what other users on the server are doing. This allows for greater stability and performance of your website. You also do not share the Operating System with any other users, providing better security for your website files.
Users of Shared hosting all share the resources on the server their websites are on. There is no guarantee of RAM or CPU with Shared hosting. Shared hosting also does not provide full root access to the server, as opposed to VPS package where users are given full root access to perform commands and make configuration changes to their hosting environment.
Getting started with VPS hosting is easy with Neqtor as your VPS hosting provider. Simply choose from our Standard, Enhanced, or Ultimate VPS hosting packages based on the amount of resources your website needs and follow the sign up instructions. Once you have an account, you can easily upgrade to more resources from within your customer dashboard.
Your best VPS hosting option is here:
$2.95/month

*